An Authorized 3M Window
Film Dealer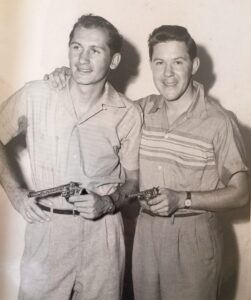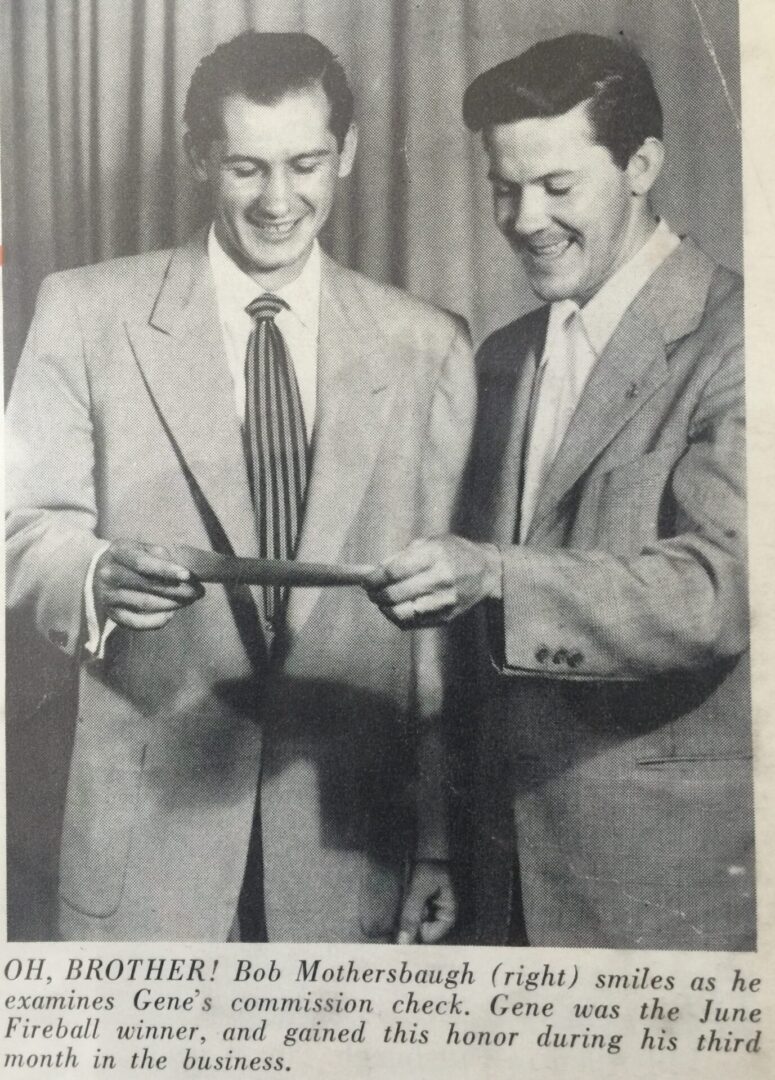 These are pictures of my father Gene and his brother, Bob winning sales awards in the late 50's.  Gene and Bob sold just about everything before they started Akron Glass Tinting in 1958.
Back then, window "tint" was liquid. Using an electric pump, the tint was applied by moving the tube along the top of the window. The liquid would flow down the window and be caught in a reservoir at the bottom. In the late 60's and they switched a new technology. Window film.
I started tinting windows in my early teens and I've been doing it ever since. This was my dad's second job on the weekends and my brother and I would help, so sleeping in on Saturday mornings was a luxury!  Gene was a great salesman and mentor. Gene passed away in 2003 and he would be so proud of how far his company has come.
When I was a kid, the business line would ring at our house, and my mother, Linda, would answer the phone and set appointments as she went about her day as a stay-at-home mom. She was super supportive in everything thing I did, even when I decided to join a ska band in the '90s and travel the country for the better part of 10 years. Linda passed away in 201 and she would have beamed and told her vast collection of close friends about our latest award, 3M 2020 National Dealer of the Year, Mid-Market.
My wife, Kristin, and I have operated Akron Glass Tinting since 1998. Through thick and thin, I couldn't ask for a better partner.
Almost 64 years later, AGT has grown into a regional leader in the window film industry as an authorized 3M window film dealer all due to our philosophy that each customer that grants us the opportunity to help them will be 100% satisfied.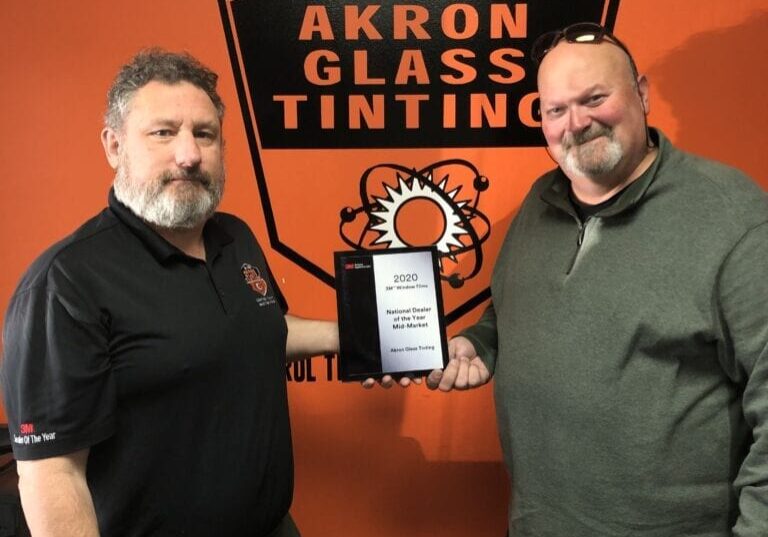 Owner Al Mothersbaugh and Sales Manager Dart Printy accepting the 3M 2020 National Mid-Market Dealer Award.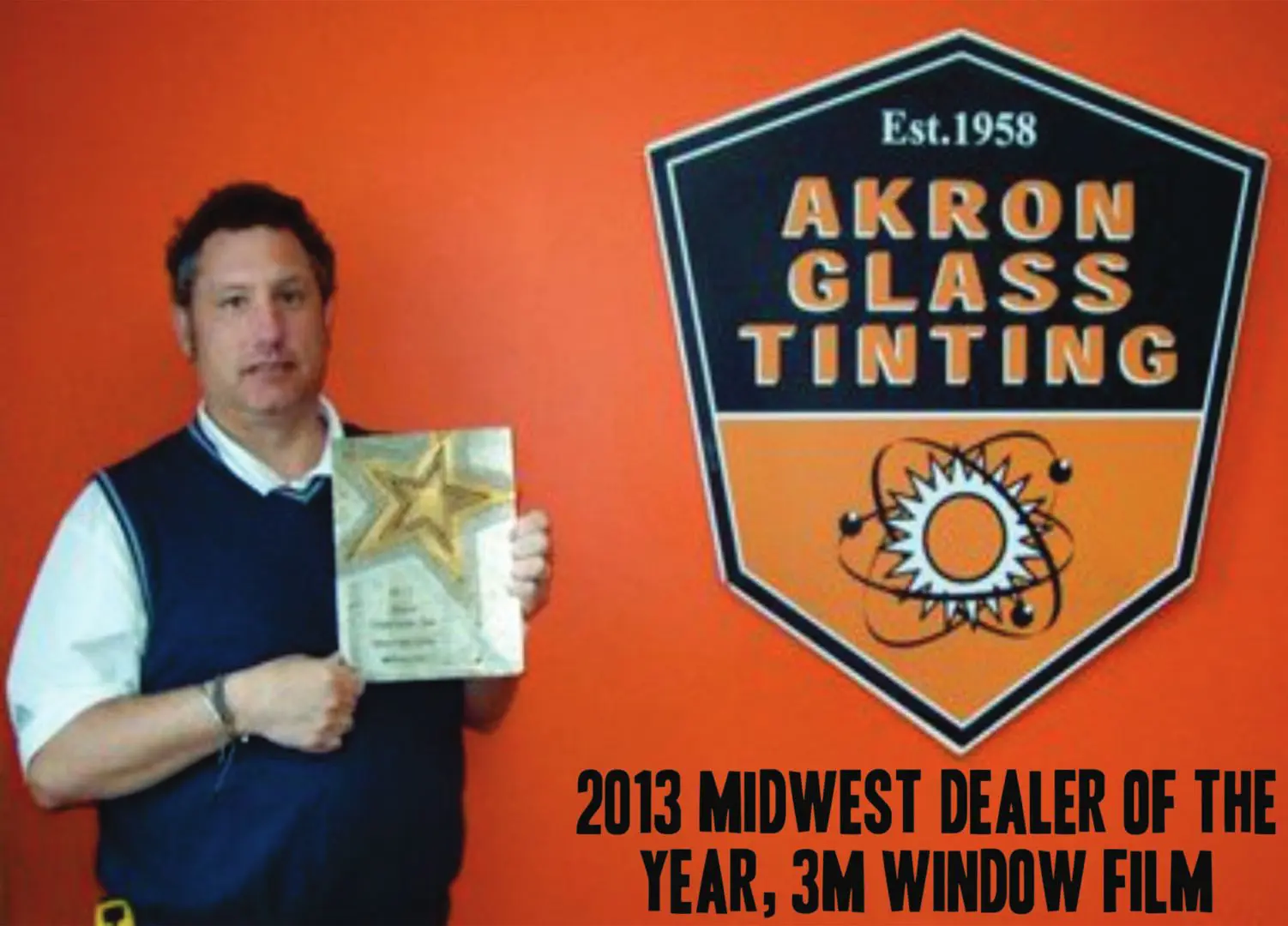 Below is a short list of select commercial customers we have served over the years. 
A Schulman
A Way of Life
A. Altman
ABC Landscaping
Accel Group
ACES DOCS
Action Link
Adalet
Adena Corp
AECOM
AFLAC
Air Enterprises
Akron Art Museum
Akron Bearing
Akron Canton Airport
AKRON CHILDREN'S HOSPITAL, BEEGHLY CAMPUS
Akron Children's Hospital
Akron Children's Hospital, Wooster
Akron Community Foundation
Akron Dermatology
Akron Energy Systems
Akron Family Dental
Akron Fulton Airport
Akron General Health & Wellness Center
Akron Main Place
Akron MetroParks Serving Summit Co.
Akron Metropolitan Housing Authority
Akron Oral and Maxillofacial Group
Akron Plastic Surgeons
Akron Rubber Development Laboratory
Akron Standard
Akron Urban League
Akrons and Edge Academy
All World Recycle Center
Alliance City School District
Alliance Community Hospital
Alliance Hospitality, Inc
Alliiance Motors
Alltel
American Bank
American Electric Power
American Tire
Ameriprise
AMHA
AMPCO
Analiza
Anderson Dubose, Inc.
APG
Apostolic Christian Church
Apple Growth Partners, Inc.
ARHAUS
Arrow Tool and Machine
Arrowhead Primary School
Arts in Stark
Ashland Catholic School
Ashland County Board of Elections
Associated Surgical Specialists
ATAC Services
Atlantic Aviation
Aultman Hospital
Aultman Orrville Hospital
AURIS NOBLE
Axess Point
Babcock & Wilcox
BAC Enterprises
Ball Corporation
Bally Total Fitness Center
Bar Symon
Barberton Citizens Hospital
Barberton Moose Lodge
Barkly And Meows
Betanu LLC
Billows Funeral Home
Bistro 1907
Bitzan
BJ's Brewhouse - Canton
Blair Rubber Co
Blick Clinic
Bober Markey Fedorovich
Boys Villiage
Bp
Breen & Co.
Brewer Garrett
Bridgepark
Bridgestone/ Firestone
Brouse McDowell
Buckeye Credit Union
Buckeye Mortgage
Buckeye Mountain
Buffett Dynasty
Business Medical Services Bureau
BWXT
Campbell Oil Company
Canal Place
Canterbury
Canton Christian Home Canton
Canton Country Day School
Canton Cultural Center
Canton Football Hall of Fame
Canton Township Fire Department
Carlton Chiropractic
Carnegie Building
CCG Energy Solutions
CCL Container
CCSConstruction
CEC Electronics
Celebration Church
Chapel Hill Christian School
Chapel Hill Community
Chapparells Community Ctr
Chase Bank
CHB Industries
Chez-Del Furniture
Children's Hospital - Massillon
China Gourmet
CHMCA
Christ Community Chapel
Christ Community Chapel - Hudson Campus
Christ Community Chapel - Stow Campus
Circle K
City of Cuyahoga Falls
City of Medina
City of North Royalton
Civic Theatre Women's Guild
CJ Industrial Supply
CLE Oral and Maxillofacial Surgery, inc.
Cleveland Clinic
Cleveland Public Library
Cleveland State University
Cliffs Natural Resources
CNS Center for Neuro and Spine Inc
Coach's Burger Bar
Cobra Plastics
Concord Hospitality
Concorde Kids
Consolidated Mold & Mfg
Constant Aviation
Continental Computec
Copley Fairlawn City School District
Cornerstone Capital Advisors
Cornerstone Free Methodist Church
Corporate College
Corporate Express
Cosmic Daves
County of Summit
Courtyard by Marriott
Crystal Clinic Cuyahoga Falls
Crystal Clinic Orthopedic Center
Crystal Clinic Surgery Center
CSA International
CSE Credit Union
Cuyahoga Community College
Cuyahoga Community College West Campus
Cuyahoga Falls General Hospital
Cuyahoga Valley Savings
Cuyahoga Valley Scenic Railroad, Emerson Air Car
Cuyahoga Valley Veterinary Clinic
Cycle Bar
Dalton Local School District
Dan Marchetta Companies
Danner Pharmacy
Daughters of Divine Charity
Davey Tree
DDG Inc.
deBoer
Deluxe Corp
Dermamed
Dermatologic Surgery Center of Northeast Ohio
Devlopment Services Agency State of Ohio
Dietrich Family Orthodontics
Dioguardi's Italian Foods
Dixon Hughes PLLC | Healthcare Consulting
Don Joseph Toyota
Don Pablos #90
Don Panchos
Don Sitts Auto
DoubleTree by Hilton Youngstown Downtown
DRB Systems
DRS Enterprises
Dunkin Donuts
Eagles Club
East Liverpool City Schools
ECKART America Corporation
ECPAuto Repair & Service
EJ Thomas
El Gato
Elliott Foot & Ankle
Energy Harbor
Enterprise Car Rental
Epiq Construction
Eric Dillion
Evergreen Bonds
Fairless Local School District
Fairview Hospital
Falls Catholic Credit Union
Falls Village Skilled Nursing
Fallsway Equipment Company
Fannie Mae/Harry London
Ferromet Corporation
Ferruccio Law Firm
Firestone
Firestone Country Club
Firestone Park United Methodist
First Church of God
First Merit Corporation
First Methodist Church
Fisher Scientific
Fit Works
Flemings Prime Steakhouse
Fox 8 - WJW
Freidman Damiano & Smith
Frito-Lay
FW Albrecht Grocery Co.
Gardiner Trane
Garfield Fire Dept
Gatsbys
General Services Administration
Georgia Pacific
Gervasi Vineyard
Giant Eagle Loss Prevention
Gojo Industries Inc.
Goldberg Companies
Goodyear Facilities (5011) c/o IRG Realty Advisors
Goodyear Tire & Rubber Company
Gordon-Flury Memorial Home
Grace Bible Church
Grace Cathedral
Graco
Great Clips
Great Oak Lanes
Green Local Schools
Greensburg United Methodist Church
Greentown Fire Department
Guardian Bastille
Hahn Loeser & Parks LLP
Hall of Fame Village
Hallrich, Inc.
Harrisville Township
Hartville Hardware
Hartville Kitchen
Harvey
Harwood Rubber Products
Hattie Larhlam
Hibachi Japan
Hickory Harvest
Hilton Garden Inn
Hofbrauhaus Cleveland
Hook, Line, & Drinkers
Hoover Distribution Center
House of Hunan
Hudson Community Foundation
Hudson Parent Teacher Org
Hyde Park
Immaculate Heart of Mary
Independence of Portage County
Independent Methodist Church
Indermule Construction
Infocision Stadium
Intercontinental Suites
Kent Free Library
Kent Lanes
Kent Psychological Associates
Kent State University
Kindred Healthcare Operating Inc
Lake Forest Country Club
Lakes of Aurora
Leetonia Exempted Village Schools
Leipold Tire
Lembos Resterant
Leppo's
Lexi-Comp
LifeStyles Akron General Health & Wellness Center
Lutheran Hospital
Lutheran Metropolitan Ministry
lyondellblasell
Malley's Chocolates
Malone College
Maplewood Career Center
Marcelitas Restaurant
Marchetta, Becky
Marchetta, Daniel
Marchetta, Sam
Marci Cona
Marcia Huffman
Marcus
Marcus Brothers
Margaret Feller
Martha Jennings Farms
Matco Tools
Medina Bureau of Motor Vehicles
Medina County
Meggitt Aircraft
Melt Bar and Grilled
Mercy Medical Center
Midcap and Co
Midtown Community Childcare
Mike Pruitt Honda
Montrose Zion United Methodist Church
MT. Calvary Baptist Church
My Office Products.
Myers Tire
National Church Residences
National City Bank
National First Ladies Library
National Heritage Academies
National Tire and Battery
NEO Eye Surgeons
Neurocare Center Inc
Neurology & Neuroscience Associates,
News Channel 5
Next Generation Films
NEXUS GAS TRANSMISSION
Niles Municipal Court
North Akron Savings Bank
North Canton Heritage Society
North Canton YMCA
North Coast Auto Mall
Northeast Ohio Eye Surgeons
Northeast Ohio Orthopaedic Associates Inc
Norwalk Raceway Park
Notre Dame College
OBGYN Associates of Akron
Office of the University Architect, University of Akron
Ohio Ankle and Foot
Ohio Brewing
Ohio Bureau of Workers' Comp
Ohio Catholic Federal Credit Union
Ohio Division of Watercraft
Ohio Mutual
Old Trail School
Oldham & Kramer
Oriana House
Perkin Elmer
Pizza Hut
PK Crushing & Materials
Planet Fitness - Beachcliff
Planned Parenthood
Playhouse Square Real Estate Services
Plaza 8 Cinemas
Pleasantview Health Care Center
PNC Bank
Portage CC
Portage County
Portage County Jail
Portage Path Behavioral Health
Prince of Peace Lutheran Church
Pro-Model & Talent Management, INC
Progressive
Quaker Manufacturing
Quaker Square Crown Plaza
Quality Castings Company
Quantum Communications
Quentin
Ravenna 7 Movie Theater
Ravenna Church of Christ
Ravenna Fire Dept.
Raymond James Financial
Reproductive Gynocology
Restore Addiction Recovery
Rittman Apostolic Church
Roadhouse
Robinson Memorial Hospital
Rockne's Pub
Rocky River City School District
Ronald McDonald House of Akron
Rooco's Pizza
Rootstown Fire
Rosemont Country Club
Rothenbuehler Cheesemaker
Rubber City McDonalds
Russo's Restaurant
Sacred Heart Parish
SageQuest
Sams Emporium
Sandridge Foods
Serpentini Chevy
Sherwin-Williams
Shoreby Club
Simply EZ
Smuckers
Soprema
Speelman Electric
Springside Racquet Club
SPSI
St Sebastian Church
St. Anthony of Pedua
St. Charles Church
St. Thomas Aquinas High School
Stage Left at the Civic
Stan Hywet Hall & Gardens
Stark County Educational Service Center
Stark County Mental Health and Addiction Recovery
Stark Social Workers Network
Stark State College of Technology
Sterling Jewelers
Stow Monroe Falls Schools
Strongsville High School
SUMMA - St Thomas
Summa Health System
Summa Western Reserve
Summit Academy Management
Summit Co. Job and Family Services
Summit Co. Juvenile Detention
Summit County Courthouse
Summit County Job & Family Services
Summit County Land Bank
Summit County Sanitary Sewer Services
Summit Foot and Ankle Care
Summit Pain Center
Summit Toyota
Suncrest Gardens
Tallmadge Historical Society
Tara at Barrington Estates
Testa Companies
The Burbick Companies
The Cleveland Hilton Downtown
The Cornice Company
The Final Selection
The Grove
The House Of The Lord
The Illuminating Company
The Metro Health System
The Quality Castings Company
The Title Co of Warren
The Word Church
Theken Spine
Thomas Classics
Timken
Timken Family Foundation
Trumbull Career and Tech Center
Tuscarawas County Board of DD
Tuscarawas Job & Family Services
UH Elyria Medical Center
United Baptist Church
University of Akron
University of Akron
University of Toledo
Vans Tire Manchester
Vans Tires
Vargo
Vasdekis
Vector Construction
Ver-Dick Builders
Verizon Wireless
Wadsworth-Rittman Hospital
Walden Inn
Walley Waffle
Wally Armour
Walsh University
Wells Fargo Advisors
Western Reserve Academy
Windham Exempted Village School
Wilson-Delfosse
Wolters Klewer
Wooster Community Hospital
Wooster United Methodist Church
Youngstown City Schools